Migration
"SEE THE SIGNS": Detection of trafficking in humans training for GBV care centers.
UNFPA Tunisia is partner to several GBV care centers: ADDCI, ATFD Sfax, UNFT, TAMSS, TIDAR and ADGS. These centers started receiving migrant women for almost two years now. As part of UNFPA's dedication to build national capacities to provide optimal care for women migrants, 25 service providers with different professional profiles (listeners, psychologists, members of associations, etc.) were trained on the detection and referral mechanisms of potential victims of human trafficking in the country.
This online training took place between September 27 and 28, 2021. At the end of the training, the participants were able understand the amplitude of the phenomena in the world and in Tunisia, to discern the different forms and to familiarize themselves with the means to detect people and specifically women and children's victims of transnational human trafficking in Tunisia but also how to refer them to the national body to combat human trafficking and organizations working specifically about transnational trafficking.
Why this subject specifically?
In Tunisia, 57% of victims of human trafficking are women, according to the National Authority for the Fight against Human Trafficking; During the period of trafficking, people experience several types of violence. In addition, these victims understand neither their situation nor their rights. This means that most of the time these people do not seek help or assistance from organizations and institutions. Trafficking in humans is a global problem, and in Tunisia, many forms are perceived as normal or acceptable. Hence, the national concern back in 2016 to enact the organic law n ° 2016-61 of August 3, 2016, on the prevention and fight against trafficking in persons, was put into force on August 03, 2016.
Amongst the predispositions of the law, consolidation of detection and referral to competent authorities was highlighted. Since then, several international actors dedicated their resources to train frontline service providers on the signs, overseen and misunderstood; the signs of potential ongoing trafficking in persons. UNFPA Tunisia joined these efforts since 2020 to train its network of partners on the detection and referral of potential victims.
Thanks to these trainings, these service providers will be able to choose the appropriate strategy for the care of potential victims of trafficking and the most appropriate referral circuit; and would contribute to shedding more light on this issue; by providing real figures and data.
MIGRATION
Open Days for Migrants in Médenine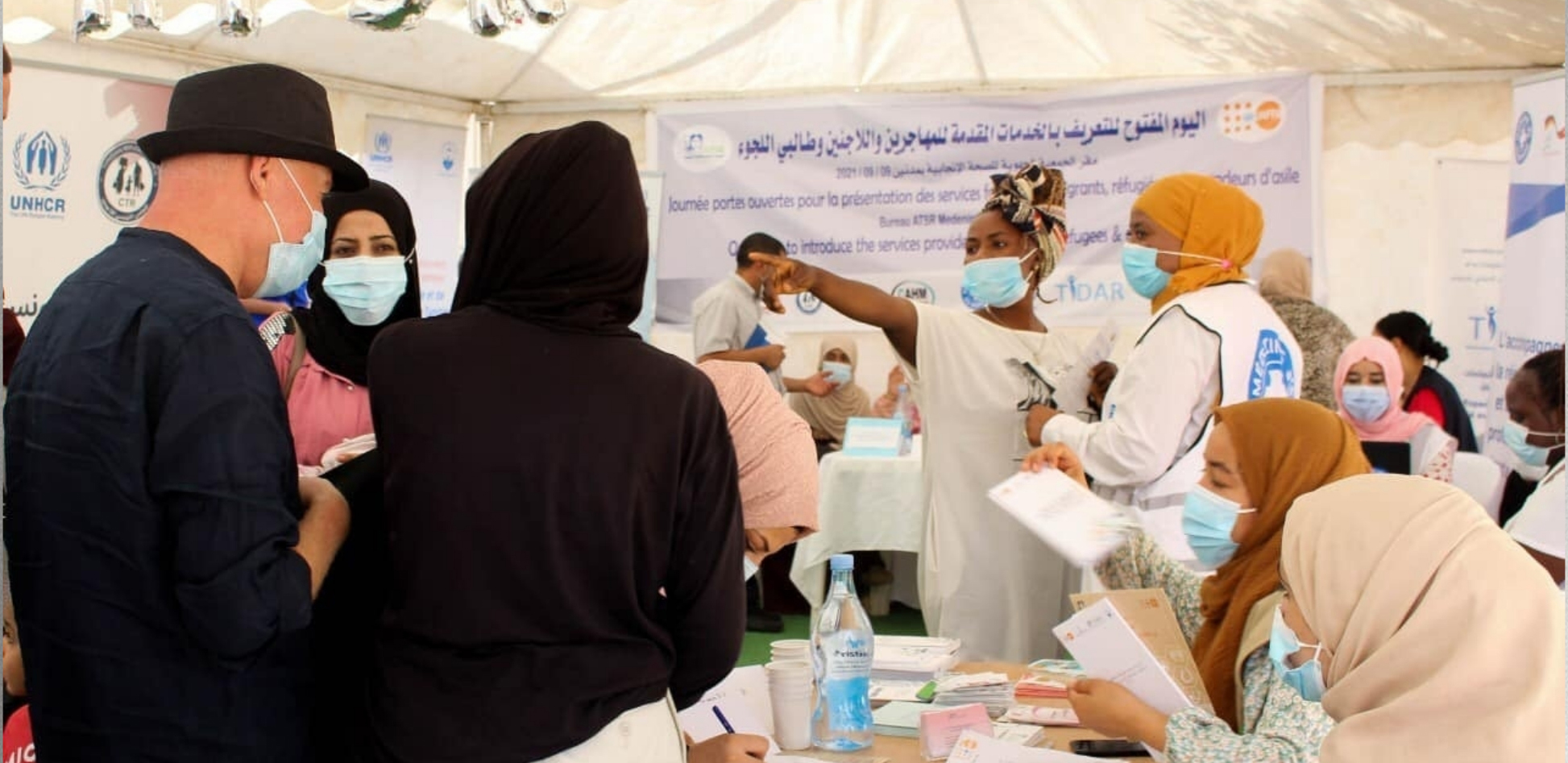 Open days for migrants in Médenine
On 9th September, 2021? UNFPA Tunisia in partnership with ATSR Medenine, organized an open day for migrants, refugees and asylum seekers to inform them about the services available in the region. Around one hundred migrants, asylum seekers and refugees, of several nationalities, were mobilized and assisted with different services, namely awareness raising on the services provided regionally, registration for migrants on the EVAX platform for COVID-19 vaccination, SRH medical consultations, psychological assessment sessions, along with entertainment activities.
The open days saw the participation of 09 CSOs: MDM, CTR, CRT, IADH, ADDCI, ADAM, coalition of associations of Medenine, ATSR Tataouine and IOM; and 2 institutions: the regional directorate of health, the regional directorate of women, children, and the elderly.